Have you spotted the new RUVIVAL logo yet?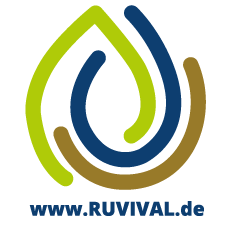 After a long decision making process we decided to use this logo designed by Johanna Mörke.
The three intertwined colours symbolise the symbiotic relationship between water, soil and vegetation. For regeneration of degraded regions and creation of vital landscapes it is crucial to look at all of these three. With RUVIVAL we aim to draw synergistic connections between these elements and to define measures which enable a sustainable future.
Revive the Rural!