The Simulation Game is an interactive learning tool for planning eco-towns, that was developed at the Institute of Wastewater Management and Water Protection at Hamburg University of Technology. The goal is to plan a small Eco-Town with an ecological design using system thinking and synergetic effects of resource cycles. The planning takes place in a simulated world, with different groups planning Eco-Towns in different climates. Two Towns are planned in Wales and two in Ethiopia.  The participating groups exchange their knowledge, as they experience similar obstacles in the planning process despite being in a different environment.
How can I take part?
The Game is open for external participants, who can take on the role of village inhabitants. As the inhabitants, they can voice their opinions about the development of the village, or raise concerns in case they feel that their interests are not taken into consideration. In this way, even though they are not directly part of the planning teams, the inhabitants actively contribute to shaping local actions and policies. The level of engagement and amount of time spent in the Game is determined by the participant.
If you want to participate in the next game (starting March 2019), you will be invited to our HumHub platform, where every day during the game something new happens. As an external participant, you play the role of an inhabitant in one of the newly planned towns. You are able to take action and influence the planning progress.
Registration for the Simulation Game
How does the Simulation Game work?
The Simulation Game is realised by using the platform HumHub (see picture below). Throughout the Game, participants are encouraged to act in a holistic and creative way, while utilising the available resources in the best possible way. The Game can provide learners with engaging experiences in planning, problem solving, data management, crisis management, communication and collaboration.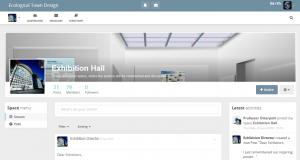 Each planning group has subgroups focusing on water, energy, buildings, transport or community impact, just to name some aspects. Every Eco-Town has to calculate their environmental footprint and react to obstacles and changes of their planning environment. Responsible for some of these changes are other groups, as each respective planning environment involves not only geographical conditions, but also other aspects, which emerge during the game.
Find current News about the Simulation Game here.