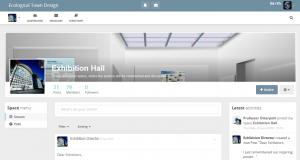 The goal of the Simulation Game is to plan a small Eco-Town with an ecological design using system thinking and synergetic effects of resource cycles. The planning takes place in a simulated world, with different groups planning Eco-Towns in different climates. Two Towns are planned in Wales and two in Ethiopia.  The participaitng groups exchange their knowledge, as they experience similar obstacles in the planning process despite being in a different environment.
How does the Simulation Game work?
If you want to participate in the next game, you will be invited to our simulation platform where every day during the game something new happens. You play the role of an inhabitant in one of the newly planned Towns. You will be able to take action and influence the planning progress.
Each planning group has subgroups focusing on water, energy, buildings, transport or community impact, just to name some aspects. Every Eco-Town has to calculate their environmental footprint and react to obstacles and changes of their planning environment. Responsible for some of these changes are other groups, as a planning environment is not only geographical conditions, but also other aspects, which will emerge during the game.
If you want to register for the Simulation Game, please write us an e-mail using our contact form. We will let you know as soon as the applications for the new game open.
Find current News about the Simulation Game here.