This post is also available in: Español (Spanish) Français (French) Deutsch (German)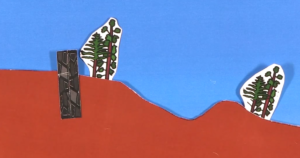 This Toolbox is covering an introduction to living zerraces. Living terraces constitute a combination of erosion control measures on slopes. Their aim is to provide effective erosion control and soil building, with minimal labour and maintenance. The entire structure, with both vertical and horizontal elements, consists out of living trees. This greatly increases their stability and durability. At the same time, they provide a source of income in form of livestock fodder and green manure after only a few months. This type of practice represents a sustainable method of erosion control, which can have a chance to serve the local farmers in developing countries. Such methods should therefore be embedded into Rainwater Harvesting.
The introductory video and the summary offer you a quick insight into the main aspects related to this topic. Once you have understood the basic concepts, you should take a look at the living terraces scheme. It gives you visual guidance for the different elements that come into play during the making of the terraces. The  literature review provides you with more in-depth knowledge on the topic. It explains the different erosion control measures and how the concept of living terraces builds on them, as well as the way in which it serves in rainwater harvesting. Finally, the Plant Selector tool is a database which is set up to help you select the most appropriate plants for creating living terraces.
Terraces Learning Tools