This post is also available in: Español (Spanish) Français (French) Deutsch (German)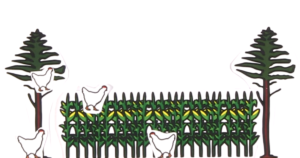 Simply put, agroforestry is a combination of agriculture and forestry. It represents the inclusion of trees or other woody perennial plants into agricultural systems, including crop and livestock production. Agroforestry, unlike conventional large scale agriculture, has the objective of emulating natural ecosystems. This helps realize a number of ecosystem services. Those include the protection of soil against erosion and water-logging, minimizing evaporation of water from soil and plants by decreasing wind speed, water protection through deeper and more extensive root systems and increased biodiversity. Long term stability and productivity of agroforestry systems surpasses those of conventional monocultures or pasturelands as they tend to be more resilient. However, the establishment of trees on farmland comes with certain challenges.
The introductory video and the summary represent a quick insight into the main aspects of this topic. Once you have understood the basic concepts, you should take a look at the agro-silvopastoral systems scheme. It gives you visual guidance of the synergies that exist in this system. The literature review provides you with more in-depth knowledge on the topic. It explains the concept of agroforestry and its benefits, but also challenges. It also introduces you to the Slope Farming Project being developed in collaboration between Hamburg University of Technology and the Arba Minch University. For real life examples of agroforestry applications, we present you with the practices employed in this project on different locations in Ethiopia. The Plant Selector tool is a database which is set up to help you select the most appropriate plants for creating living terraces.
Agroforestry Learning Tools