Long Night of the Sciences took place last weekend and we had a lot of fun learning and discovering with our visitors! For those of you who couldn't join us, we picked out some of the Night's highlights.
Together with two other HOOU projects, Kniffelix and MikiE, we invited you to test your luck and knowledge related to all three projects at our wheel of fortune. What are the building blocks of proteins? What is the main cause of erosion? What is the name of the property that describes how 'thick' a fluid is? These are just some of the many questions we asked our visitors.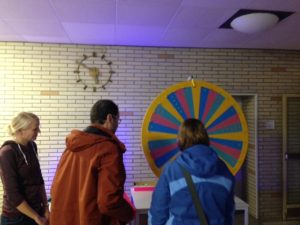 In order to solve the questions, visitors went to the stands of the three projects. Together with the project members they discovered and discussed the three educational websites. Once they found the right answer, they spun the wheel of fortune to win a prize – for example a tote bag that could be designed during the night.
We would like to thank everyone who participated in this event.