This post is also available in: Español (Spanish) Français (French)
RUVIVAL Publication Series Volume 3 covers the following topics: Sustainable Irrigation, Terra Preta Sanitation and Urine Utilisation.
Literature Review on the Utilisation of Urine as a Fertiliser in Agriculture (pp. 8 – 18)
A Review of Terra Preta Sanitation with a Focus on the Research Outcomes of the Institute of Wastewater Management and Water Protection (AWW) (pp. 19 – 29)
Literature Review on Water Efficiency in Agriculture: Sustainable Irrigation Methods (pp. 30 – 49)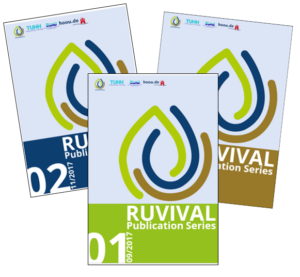 Find all volumes of RUVIVAL Publication Series here.