This post is also available in: Español (Spanish) Français (French)
RUVIVAL Publication Series Volume 2 covers topics of aquifer recharge and rainwater harvesting:
Literature Review on Managed Aquifer Recharge in the Context of Water and Soil Restoration Methods (pp. 6-18)
Literature Review on the Rainwater Harvesting Research Landscape, In-Situ and Domestic Design Examples and Best Practice Projects in China and Brazil (pp. 19-35)
A Review of Land-Based Rainwater Harvesting Systems for Micro and Macro-Catchments (pp. 36-49)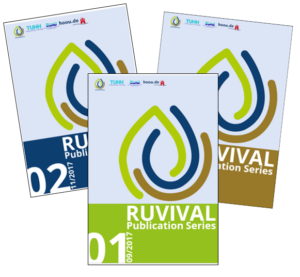 Find all volumes of RUVIVAL Publication Series
here
.