This post is also available in: Español (Spanish) Français (French) Deutsch (German)
After 3 years of weekly new online learning content, RUVIVAL is ready for a short holiday. We will be back in January with the German translation of our lecture System of Rice Intensification, Spanish translations of our Toolbox Sand Dams and much more! In 2020 we will change our publication day: new Toolbox elements, Lecture parts or news will be added on Tuesdays! Also, we are planning for a new design!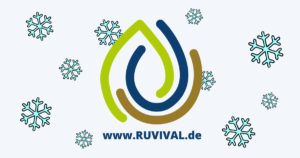 RUVIVAL Highlights of 2019
Do you still remember our news about publishing 100 posts? Well that was two years ago and by now we have 650 posts online! At the end of 2019 it is time for a little yearly review. Next to publishing more online learning content, these are our RUVIVAL Highlights of 2019:
In addition, we went to several events and conferences. We can look back to another successful year of RUVIVAL and thank all our project partners. Happy holidays from RUVIVAL!